Congratulations to our 2018 RJL Woman of Distinction – April Dorey!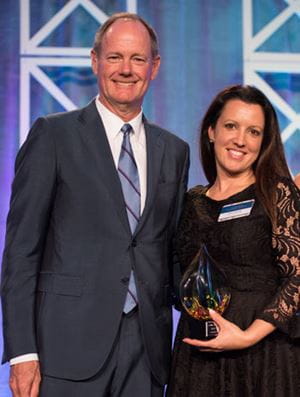 Paul Allison, Chairman and CEO, Raymond James Ltd., April Dorey
The Network for Women Advisors is very proud to announce that April Dorey was the recipient of the 2018 RJL Woman of Distinction Award.
An outstanding role model to her female colleagues, April has more than 20 years of experience in the financial services industry and is the principal and lead Investment Advisor of the Dorey Wealth Management Group of Raymond James Ltd. She has been with the firm since March 2006.
She currently serves on the Raymond James Canada Foundation Advisory Board, is Vice President of the Estate Planning Council of Victoria, sits on the Advisory Board of the Salvation Army of BC, and is an "angel" advisory committee member for Pacifica Housing. She is also a regular volunteer for SurfRider, and is part of the mentorship program at the University of Victoria – inspiring young business leaders and entrepreneurs of the future.
April has a Bachelor of Commerce from Royal Roads University and has earned the Fellowship of the Canadian Securities Institute.
"April's drive, passion for helping others, hard work and dedication to excellence have led to the building of a successful business that many only dream of achieving. Not only does she make an important impact in the lives of her clients but she is also a source of inspiration and guidance for her peers and the next generation," says Paul Allison, Chairman and CEO, Raymond James Ltd.
The Woman of Distinction award is presented to female advisors with Raymond James who are exceptional in both their professional and personal contributions. The award was created to recognize women who both influence others in the financial industry and who make a positive impact in their communities. Nominated by top management at Raymond James, the award was presented during the annual Women's Symposium held this year in Tampa, Florida.