Supporting the education, retention and recruitment of the best women advisors in the industry.
Strength in Community
We have a strong community of women advisors who account for more than 18 per cent of our advisor population and manage over 14 per cent of client assets.
Creating Connection
From practice management resources to events and networking opportunities, we give you access to the tools and talent you need to build relationships and grow your practice.
We Invest in You
At Raymond James, our women's network is global in its reach and in many ways unmatched in its impact. In 1994, the Women Financial Advisors Network (Raymond James Financial) was established. The Women Canadian Advisors Network launch followed in 2013. The networks have grown from a grassroots effort to hosting more than 1,500 successful women who are passionate about connecting with like-minded financial professionals, building relationships and growing their business with the full support of a firm that puts advisors first.
Andrea Linger
Vice President, Practice Management &
Head of the Women Canadian Advisors Network
Raymond James Ltd.
"I feel privileged and honoured to be leading the Women Canadian Advisors Network for Raymond James Ltd. I am passionate about helping to deliver programs and provide opportunities for our women advisors to grow and thrive within a firm that fully supports them and their business.

I look forward to connecting with women in our industry and with those thinking of joining our firm to discuss all the amazing opportunities being a woman financial advisor has to offer."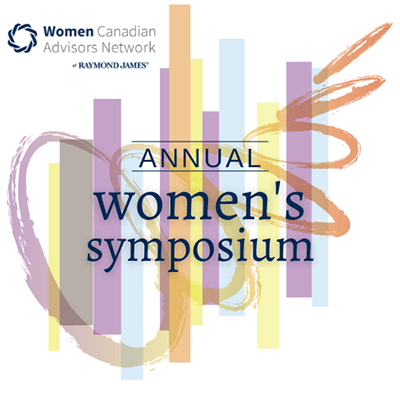 The Annual Women's Symposium
Join us for an industry exclusive event that brings together women from all walks of the financial services industry across the U.S., Canada and the U.K.
Learn more about how you can attend this event tailored to financial advisors at all stages of their careers.
Trixie Rowein
Vice President, Portfolio Manager
PAX Portfolio Advisory of Raymond James Ltd.
"The opportunity to see my colleagues and learn from their experiences at The Annual Women's Symposium has fueled my success as a female portfolio manager."
Women Canadian Advisors Network Offering
Aspire Magazine
Check out Aspire Magazine, our biannual publication designed to celebrate and inspire women's success in the financial services industry.
Women's Advisory Council (Canada)
Find out how Raymond James' talented women advisors dedicate their time and industry knowledge to guiding advisors as they navigate an ever-changing industry.
Mastermind Groups & Workshops
Interact and learn from your peers through our mastermind groups. Or join our coaching opportunities.
Opportunities for Women Advisors Whitepaper
In this guide, you'll find practical advice from women advisors across Canada on how to thrive in the wealth management profession.
Start a Confidential Conversation.
Interested in discussing your future at Raymond James and joining the Women Canadian Advisors Network?
One of our team members will email or text you for a private discussion.