Skating to Support ErinoakKids
On Friday February 23, 2018 the Wyndham Group from Raymond James led the ErinoakKids Skate 100 to raise money for their children rehab centres. Fundraisers skated 100 laps in an hour at the historic Port Credit Arena in Mississauga, Ontario. Collectively the team raised over $68,000 for the ErinoakKids Centre for Treatment and Development, which is Ontario's largest children's treatment centre, serving more than 16,000 children with disabilities each year. Specifically, the event will support the redevelopment project of the three new facilities in Mississauga, Brampton, and Oakville.
ErinoakKids provides a safe place for rehabilitation and healing, and creates bonds that last a lifetime. Rob Pollard and the Wyndham Group team at Raymond James, did a fantastic job pulling this skate together. Rob's wife, Kim, a beloved physiotherapist at ErinoakKids, did a wonderful job connecting Raymond James to the ErinoakKids children and their families by sharing stories of the challenges these families face on a daily basis. Many Raymond James employees participated in the event.
"It was a truly special day, not just because of the amount raised but mainly due to the interactions of the skaters and the kids. Everyone who participated now knows how fortunate we are to have ErinoakKids in our community," said Rob Pollard, Senior Vice President, Portfolio Manager, Wyndham Group at Raymond James Ltd.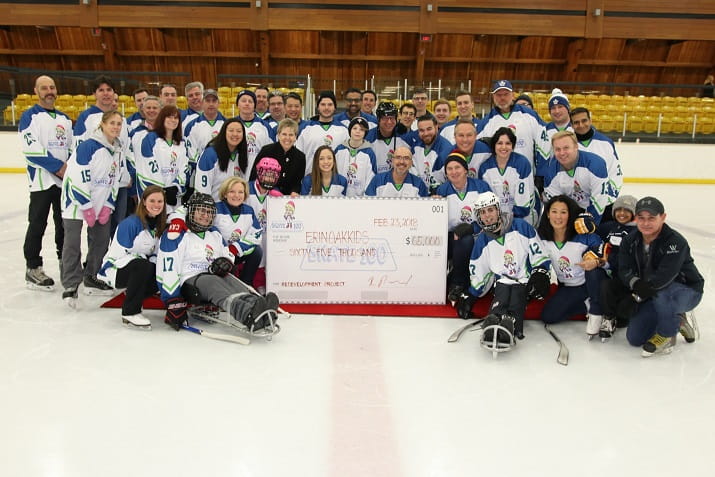 In this photo: Adrienne Walker, Amanda Kahnert, Bob Atkinson, Brad MacAulay, Christina Jakubczyk, Christian Christou, Dan Bowman, Daniel Isen, David Finley, David Spilak, David and Daniel Isen, Dwayne Tygesen, Herman Gill, Iain Carrillo, Jamie Coulter, Jamil Kassam, James McIntyre, John Donnelly, Joseph Morra, Kerry Campbell, Kim Pollard, Kimberly Edwards, Liana Hart, Mark Hrinco, Mich Desormeaux, Michael Boire , Michael Krisciunas, Mike Vidas, Nik Zabaljac, Nik Schepi, Paul Sunner, Paul Christou, Peter Kahnert, Robert Pollard, Robert New, Ross MacLachlan, Scott MacKenzie, Steven Latimer, Wilson Chen, Melanie Fortiz, Barbara Underhill, Marisa Leung.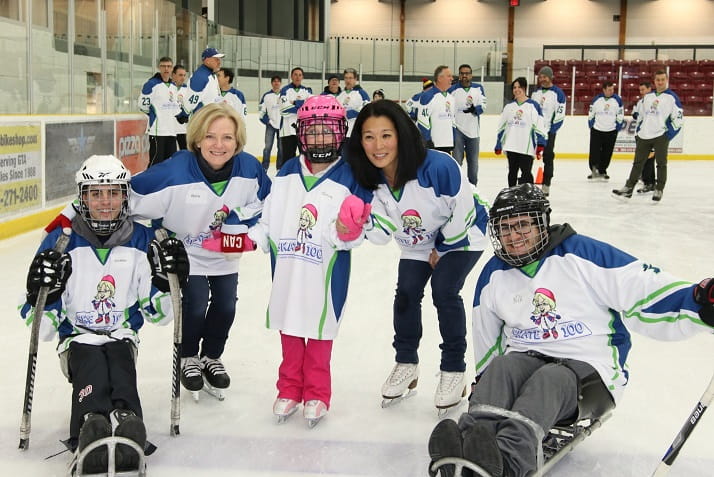 Left to right: Christian Christou, Barbara Underhill, Janine, Kim Pollard, Nik Schepis.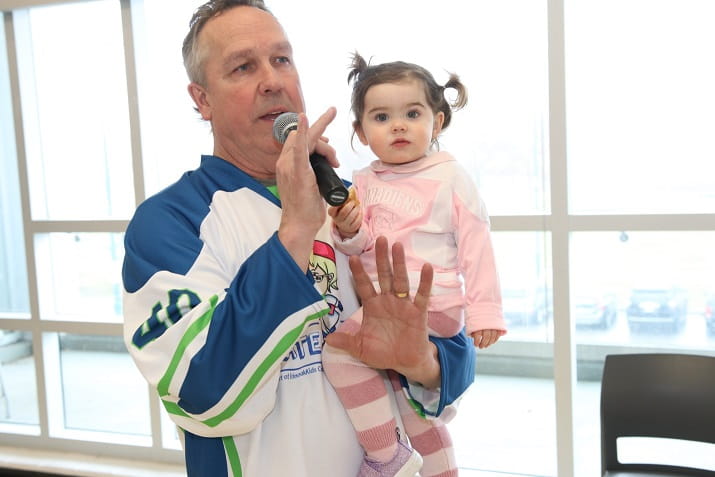 Peter Kahnert and his granddaughter Florence.
The organization depends on public funding, which is never enough, and the generosity of community minded citizens like those who donated to this great cause. The Skate 100 was the first of this type of event held in support of ErinoakKids. The most treasured moment of the day came when Barb Underhill, a former world champion pair's figure skater (with her partner Paul Martini) was addressing the group. Twenty three years ago, Barb volunteered at ErinoakKids and led a skating session with an Erin Oaks patient, Lisa Edmonds. Unbeknownst to Barb, Lisa, who is now 33, surprised Barb with an emotional reunion. There wasn't a dry eye in the room.
Thank you to everyone who made this event such a success!
Watch the CTV coverage here.