Raymond James Cares Month Update!
In the spirit of Canada's 150th birthday, we are on our way to making this year's RJ Cares Month the best yet!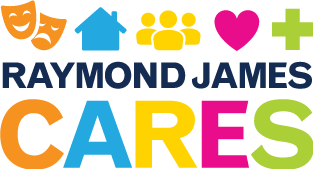 With the first half of the month under our belts, we are pushing to meet our goal and to show Canada how much we care by donating2500 volunteer hours at a range of charity organizations across the country.
The great news is that we are well on our way to reaching our3000 lbs. of food donation goal! Teams and branches across Raymond James are having friendly competitions of who can build the highest food mountains and all of the food will be donated to food banks across Canada! We are very proud of our colleagues for donating500 lbs. of non-perishable food items so far in May 2017!
We're also hoping to reach our goal of donating100 pints of blood through Canada Blood Services. Our colleagues are generously taking time out of their days to donate blood, driven to make an impact. We are blown away by the caring spirit of each and every one of our colleagues at Raymond James!
We encourage everyone to get involved with a charity or organization that gives back to a cause that they are passionate about. We encourage people to step up and be leaders and to share their passion of community involvement with their colleagues.
Without a doubt, the generosity of our colleagues across the firm never ceases to amaze.
Giving back to the communities in which we live and work is a key value on which our firm is built, here we embrace our spirit of social responsibility.
Please visit rjcares.ca to see what else we've done for our communities recently. Be sure to check out our gallery!