Raymond James Cares Month - The Results Are In!
On behalf of the Raymond James Canada Foundation, thank you for participating in Raymond James Cares month 2017! RJCF's role is to support, guide, connect, facilitate and introduce advisors and associates with charities in their local communities. "We help our employees and advisors make meaningful connections with charities and communities," says Janine Davies, Executive Director, Raymond James Canada Foundation. "From coast to coast, Raymond James employees and associates came together to help feed, clothe and care for those in need. We are very proud of your commitments to community, in May and throughout the year."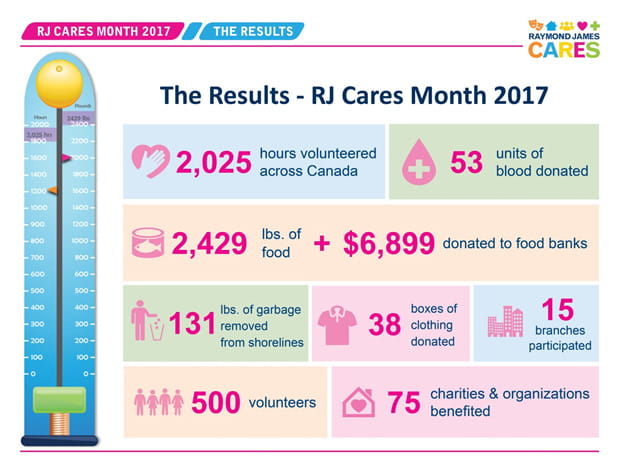 Collectively, we volunteered 2,025 hours in support of 75 charities and non-profits across the country! Over 500 Raymond James employees and associates made positive impacts in their communities by donating their time and talents to local charities with their friends, families and colleagues.
Since 2013, RJ Cares month has brought the generosity of our employees to the forefront. This year, branches from Victoria to Winnipeg to Montreal and everywhere in between, sought out ways to strengthen the communities in which we live and work.
Across the firm, RJ Cares Month supported a wide variety of incredible causes, from food banks and cancer research, to animals and the environment, to vulnerable children and families.
Experienced donors and first-timers rolled up their sleeves to give the gift of life with Canadian Blood Services. Across the country we donated 53 much needed units of blood.
Throughout the month, we collected 2,429 pounds of non-perishable food items and raised $6,899 for food banks across Canada. We supported the Ottawa Mission, the Greater Vancouver Food Bank, the Scott Mission, the Medicine Hat Food Bank, and many other community initiatives with donations of time, food, and cash. Our Calgary office made hundreds of sandwiches in support of lunch programs for the Mustard Seed, and in Victoria our colleagues served 355 breakfasts to hungry and very grateful patrons at Our Place. Kelowna hosted a Shred-It event and worked a booth at the Great Okanagan Beer Festival both in support of the Central Okanagan Food Bank. These amazing organizations work hard to feed 860,000 Canadians each month.
Our volunteers helped the fight against cancer through the country-wide Ride to Conquer Cance, and the Canadian Cancer Society in Vancouver. Our teams also supported families with sick children at the Ronald McDonald House Saskatchewan, and Almost Home in Kingston, Ontario. "Jeans Day," which was held in Vancouver and Montreal, raised money for the BC Children's Hospital and the Cure Foundation. In Toronto, volunteers supported the Canadian Foundation for AIDS Research annual AIDSbeat gala.
Communities across the country participated in environmental initiatives. This included collecting 131 pounds of garbage in conjunction with the Great Canadian Shoreline Cleanup. In response to the devastating spring floods, teams in Kelowna and Montreal spent hours helping with the sandbagging efforts to protect the people and property affected by the record-breaking flooding. Teams also supported the welfare of animals, with events at The Toronto Humane Society, Ottawa's Penny Lane Farm, and the Victoria SPCA.
In Vancouver, volunteers at BabyGoRound put together 60 newborn gift bags and 40 bags of donated organic baby food for families in need, and a team supported the great work of the Down Syndrome Research Foundation by giving their outdoor play area a much-needed face-lift. In Calgary, volunteers worked with Habitat for Humanity to build affordable housing to give strength, stability, and independence to vulnerable families in their community.
In addition to serving others, RJ Cares offers employees the chance to engage with coworkers outside the office, meet new people, and create strong personal bonds. After volunteering this year, Paul Allison, Chief Executive Officer and Chairman, said, "Put your hand on your heart, does it feel a little bit warmer? You gave more than you know today and I appreciate your efforts to making your community a better place to live in. Your generosity continues to inspire. Thank you for volunteering."
This was the first RJ Cares Month that our 3 Macs Division participated in, and we would like to extend a special 'thank you' to our new colleagues who made this RJ Cares Month extra special. The Raymond James Canada Foundation extends a heartfelt thank you to all participants who gave their time and talents, and to the team captains that organized opportunities and groups across the country here at Raymond James. Our biggest, heartfelt thank you goes to the charities who invited us to support their good work. Please join us in congratulating our employees and associates for their efforts during Raymond James Cares Month!
Thank you for making a difference in 2017!
RJ Cares Snapshots
"In my opinion, the RJ Cares campaign goes beyond the basic goal of volunteering, it not only provides communities and organizations with absolutely necessary support but it also allows Raymond James co-workers to engage and interact in a positive setting which has a direct impact on the RJ culture. I enjoyed meeting new faces this year and will absolutely be an active RJ Cares contributor for the years to come" - Mike Hope, Trading Desk Manager, Vancouver, BC.