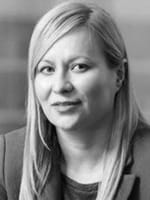 Paula Amy Hewitt
Senior Vice President, General Counsel, Chief Compliance Officer (CCO) & Chief Privacy Officer (CPO)
Raymond James Ltd.
Paula has more than 15 years of experience in the securities industry, having previously served as Head of Legal, Chief Compliance Officer (CCO) & Chief Anti-Money Laundering Officer at a Canadian IIROC Investment Dealer, as well as CCO for the IIROC and FINRA Dealers of an international financial services company. She is a respected volunteer among our investment dealer regulators and is an active member of IIROC's Ontario District Counsel, the IIAC's Derivatives Committee, and the IAPP Canada Advisory Board.
Paula is bilingual, and holds many licenses, certifications and qualifications in privacy, anti-money laundering, securities, mortgages and insurance law, risk management, corporate finance and corporate governance. She's provided expert advice in wealth management and capital markets functions while holding positions in private practice and senior leadership roles at her previous firms.
She brings an informed, practical and responsive approach to legal and compliance matters, understanding that good business benefits all. She is committed to operating in accordance with the highest regulatory standards – mitigating legal, compliance and governance risk in an ever-changing and increasingly complex environment.